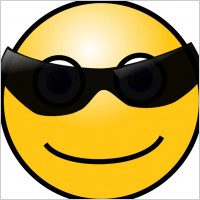 "Show me a guy who is afraid to look bad, and I will show you a guy you can beat every time." – Lou Brock
So there I was, taking advantage of the free week pass at the coolest gym I've ever been in. I was surrounded by Strongman equipment I'd only heard of but never seen in person. And by the new Jungle Gym toys I've always wanted to buy. And by grunting powerlifters who were working their butts off instead of taking up space by the power racks to do nothing…or worse, glaring creepily. And it was awesome. But then I found myself looking at my workout and feeling a little inadequate. I mean these guys are dropping serious poundage and I'm supposed to reverse flies, three-point rows and bird dogs? Everyone's gonna think I'm doing pansy girl workouts I got out of some cheesy teenybopper "women's health" magazine.
Taking a step back, I reminded myself that I picked the program I'm on for a reason. I'm dealing with some injuries I don't want to aggravate. I'm slowly working my way back up to using real weights again since I spent over a year working out in a home gym with 50-lb. dumbbells being the heaviest item in my arsenal. I'm ramping up my grappling training in a pretty hardcore way and don't want to overdo things. Besides, you can't do heavy deads or clean+jerks every day.
I carefully scouted out BJJ gyms until I found the perfect fit for me, eagerly planning to do at least one class a day, six days a week. The first week, Thanksgiving and an out-of-town outing got in my way. The second week, I only barely got through a Monday night class and then collapsed into bed for 12 hours with some kind of plague. I haven't been back since–both because I'm sick as a dog and because I don't want to get others sick before a tournament on the 10th. And again, the thought crossed my mind that other people might not think I'm serious missing my entire second week of training. I might look like that girl that shows up once a week and disappears for a month. I'm going to have to start all over trying to build up rapport with these near-strangers who have no idea how serious I am about my training. Sure, if anyone asks, I could tell them I was sick, but most people don't ask–they just silently judge everyone without really understanding all the circumstances.
We've all been guilty of engaging in these futile, obsessive tendencies. Here's five reasons not to.
You're following a progression for a reason.
Whether you're taking a back-off week because you know what the effects of over-training look like, overcoming an injury or just taking a while to build or rebuild a solid foundation, there's a reason you're following the program you're on. All the (perceived) thoughts of anyone else in the world won't change the reasoning for your program. (And if you're sick or injured…you're sick or injured. Nobody other than your health care provider can tell you when you can go back–you have to trust your own body and judgement.)
Trying to look cool messes up your form, which makes you susceptible to injury.
We've all seen guys trying to show off just how much they can bench press or think they can bench. Even if biting off more than they can chew actually has the effect they're looking for, it certainly doesn't prevent any injuries. Don't get me wrong–there's a time and a place for trying to be your best and show people what you're made of. But every single day at the gym? If you're trying to push yourself and embrace the grind, more power to you. But if you're trying to look cool by doing more than you can comfortably do, the only way to do that is to cheat on form. And if you cheat on form, you're only cheating yourself… So give your body some love and work with it. (In sports where showing off is usually at the expense of others, remember that this will always come back to you in the end. Karma is real.)
The "good" guys aren't silently judging you anyway. (Or even paying attention.)
The only people I have ever heard make comments on what people were doing in the gym and how dumb they are (etc.) were douchebags. (This includes the king of Gold's Gym in Eau Claire, who was very offended by women deadlifting, it seems. Were I to change my workout to hamstring curls (with gloves on), I might have made friends with a guy who was a total tool. I'm sure you get the point. (I will admit to silently judging other's poor form in the gym, though. Nobody's perfect.)
Trying to look cool stops you from working fundamentals.
Playing scales will never be sexy, and neither will working on squat form with a PVC pipe. And both are absolutely fundamental.  Whether it's drilling, working on form or something similar, getting to where you want to go will always require something that may be boring for others to watch or that other gym-goers may not get. And that's okay, as long as you keep doing it. I'm thinking of someone I trained with once who had over 10 years of grappling, which didn't seem evident to me right away…until I noticed I was getting swept with the exact same sweep time and time again. Someone was working fundamentals and didn't care whether or not I noticed. That's how people get really good.
Fixating on what others think will stop you in your pursuit of excellence.
As I've shown above, being so worried about how others view you (which we've all been guilty of) can stop you from working fundamentals, following smartly designed progressions and even lead to injury. But it can also crush your creativity, since you're less likely to take risks which may not look cool while you're in the process of acquiring those skills. It can also throw you off mentally, taking your focus off of where it needs to be for your sport or activity. And it generally puts you in the wrong frame of mind, one where you're more concerned about what you look like than what you can do and what it feels like. Additionally, it can lead to all kinds of mental blocks and excuses about areas you need to work. Finally, it can lead to a fierce competitive streak. There is nothing wrong with competition. Cut-throat competition can lead to a lot of growth, but friendly competition leads to a more refined growth.
So take it from someone recovering from this very thought process–approaching things with genuine curiosity, playfulness and joy leads to far better results.
(For more on this topic, I'd recommend Josh Waitzkin's book, The Art of Learning.