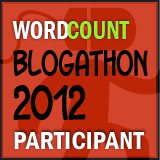 This is my second year participating in the Word Count Blogathon, a 30-day community blogging challenge organized by freelance writer Michelle Rafter. She's also created optional theme days to participate in, and today is Haiku Day.
As a journalist, I regularly accept assignments to cover events in other states, and I attend conferences on my own as well. This means I get to network with amazing people, listen to fabulous speakers, and keep up with the latest industry trends. It also means I spend a lot of time driving. This is a haiku I wrote while making an unfortunate stop at a fast food place while making my way back home.
bad food on road trips
a necessary evil
but my tummy hurts
If you, too, have to travel and wish to learn from my haiku and avoid this all-too-preventable scenario, here are some resources.